Steel belt systems improve cycle times and reduce costs for automated assembly lines
In general, the key to automation success is improving productivity and lowering operating costs while creating new, innovative products for a defined customer base. This premise is especially true for the pharmaceutical industry. When a US-based manufacturer of medical devices had to do this job, it didn't take long to look. Belt Technologies solved not just one, but two complex automation problems with one solution.
It's in our DNA
Our motto is "Precision in motion" and is naturally included in every one of our concepts. Our company was directly put to the test to develop automation devices for the production of revolutionary test systems for DNA analysis technology in order to improve cycle times while reducing costs.
Although the manufacturer's DNA testing process was significantly faster than competitive tests, the manufacturing process itself was very time-consuming. Initially, the company produced the disposable reaction tube – a key element of the test – by hand and could only produce 400 tubes per day. It was evident that some degree of automation was required to produce the required 18 million parts per year.
However, higher throughput was only half the battle: cost savings were the other.
After considering a variety of options, a belt and pulley metal belt conveyor system from Belt Technologies was selected to replace the existing automation. The result? Improved process times and more – with the new configuration, four separate products could be produced on the same line, increasing profit and representing a major advance in the medical field.
The be-all and end-all of steel belt technology
Metal straps offer advantages over similar products and straps made from other materials. First of all, metal belts have several unique properties that result in superior precision control, durability and cost efficiency. In many cases, they are preferable to other types of belts (such as rubber and fiberglass) because metal belts do not stretch like standard timing belts and surface speed variations are minimized.
Belt Technologies metal belts run without any lubrication, offer unlimited travel, and are available in a variety of alloys. Metal belts are often preferred over other power transmission or motion control components (such as linear actuators, lead screws, and chains) because of their high strength-to-weight ratio, durability, and precise positioning.
Metal belts, control screws as well as drive and deflection rollers with which the cleats are attached have been integrated into the production process of the assembly lines. Founded in 1996, the company has been extremely successful in our steel belt transport since 1999, but turned to Belt Technologies again in 2020 for support in the production of DNA test kits in view of the COVID-19 pandemic.
One of the main advantages of this vertical conveyor system is the flexibility to handle multiple products at the same time. The steel belts were developed to be connected to the company's own tools via a common interface. This is integrated in every tool and covers a number of different products, which enables shorter changeover times. In addition, by using both sides of the metal belt, the vertical solution doubled performance without increasing operating costs. This was a key consideration given the urgency to bring COVID-19 test kits to market.
Given the direct public benefits of these test kits, Belt Technologies made the rapid manufacture of these steel belts a top priority to meet the company's significantly increased demand. Belt Technologies was "exactly what the doctor ordered" for this US manufacturer.
About Belt Technologies
Belt Technologies has been producing custom steel belt conveyor solutions for new and existing conveyor systems for more than five decades. Sophisticated engineering, advanced manufacturing processes and an unlimited variety of configurations and coatings are available to us to customize belts for every application. Steel and indexing belts as well as steel drive belts are superior, high-quality options for automated production and robotic systems.
Further information about Belt Technologies and our steel belts / steel belt systems can be found on our website www.belttechnologies.de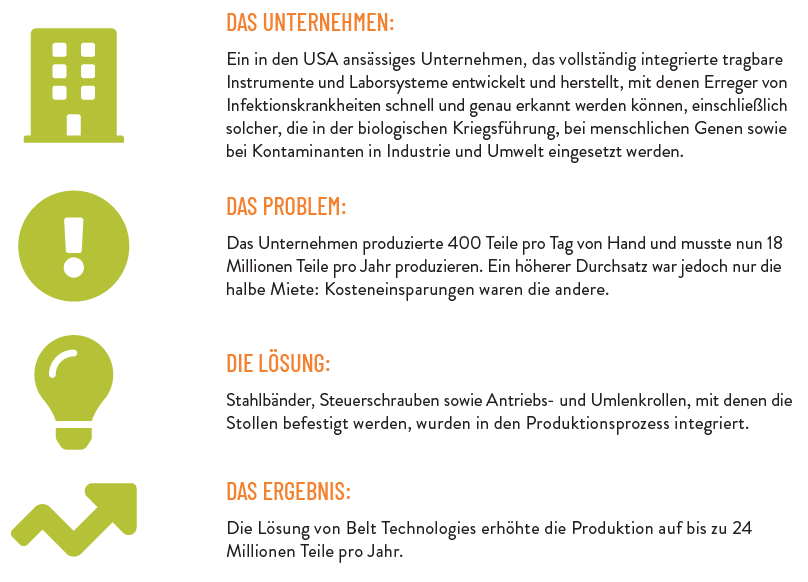 Comment from the project management:
"We looked at various conveyor products and had a problem with the high mass of the system. The obvious solution was metal belts, which offer low inertia and excellent repeatability. In addition, thanks to the flexibility of the belts, we could easily expand the production line in the future. "